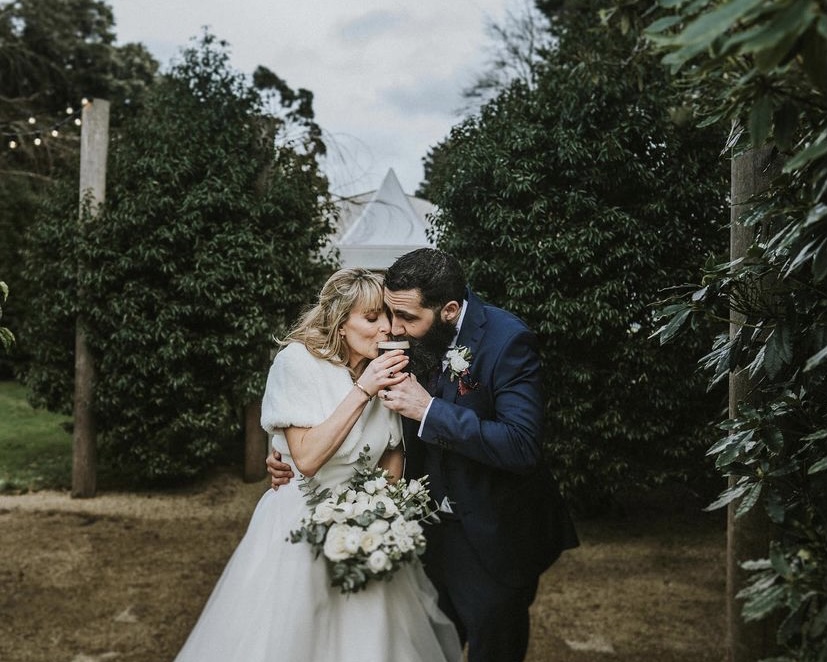 The rustic and ethereal wedding of Nora and Romain which took place in the beautiful surroundings of Tinakilly House. Situated in Rathnew, Co.Wicklow, Tinakilly House offers peace and tranquillity; easily accessible and only 45 minutes from Dublin. This stunning award winning Country House Hotel is steeped in history and oozes charm and sophistication.

At Tinakilly, you'll be pampered in a lovingly refreshed home, where every attention is given to the smallest detail on your day. Where the gardens, rooms, food and service are a five star standard. Personal, tailor-made, bespoke celebrations in a unique atmosphere are a signature of Tinakilly; making it the perfect wedding venue.

When making Nora's bouquet, we chose a combination of roses, lisianthus, ranunculus & eucalyptus. Classic, simplistic & full of life which I felt complimented her dress and accessories perfectly.

We then brought the same elements from her bouquet into the church & adorned the chairs and pews to tie in with the overall wedding theme; focusing on the simplicity of nature.

The church's alter & the bridal bouquet.
Lisianthus looks very similar to roses but are much easier to grow. As a cut flower, they last for a really long time in a vase and are available in many different colours from white to yellow, pink and purple; making them a great choice for wedding bouquets and wedding decor. While ranunculus are often referred to as the rose of spring & are an extremely popular choice paired with eucalyptus which looks attractive all year round, thanks to its decorative foliage and bark.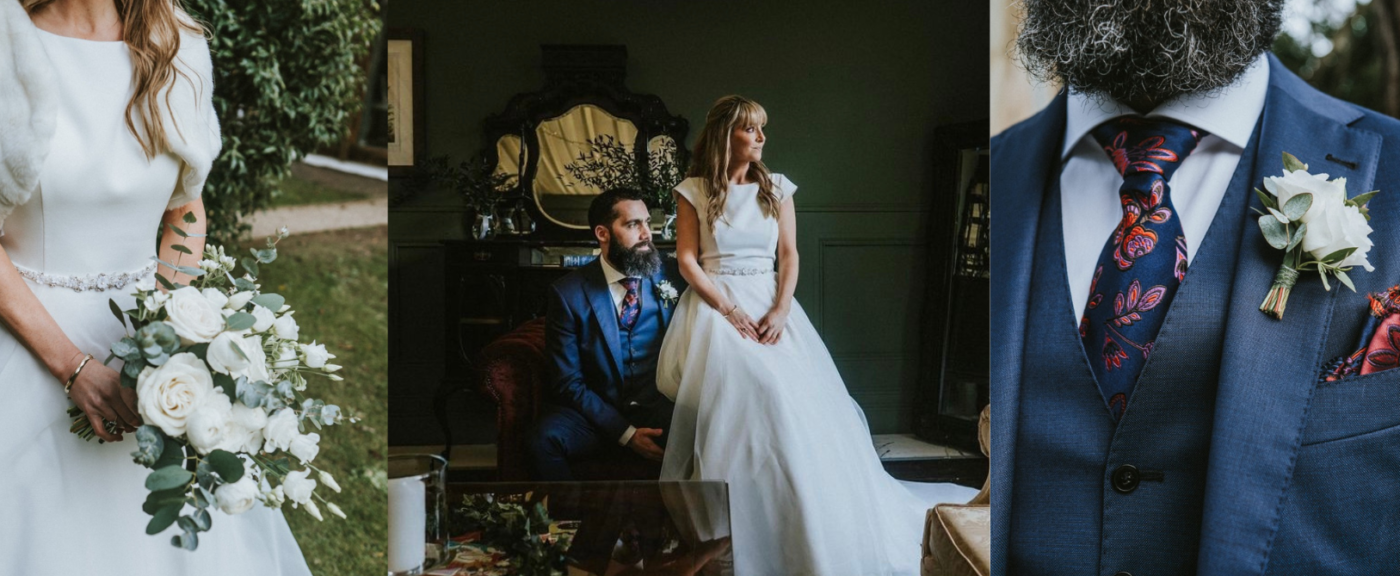 His & her's details….a mini version of her bouquet made for the perfect button hole for Romain.

The church pews and the marque both had ruscus & eucalyptus as the main feature. Eucalyptus has become a symbol in the world of strength, protection, and abundance; wonderful and lovely symbolism to help celebrate your day.
Nora & Romain's day was shot by the amazing Derek O'Rourke from Memento Photography; check out his website for more of his talented work. All other suppler details can be found below. As always we loved working on this gorgeous wedding like all the weddings we have the joy and pleasure of being part of.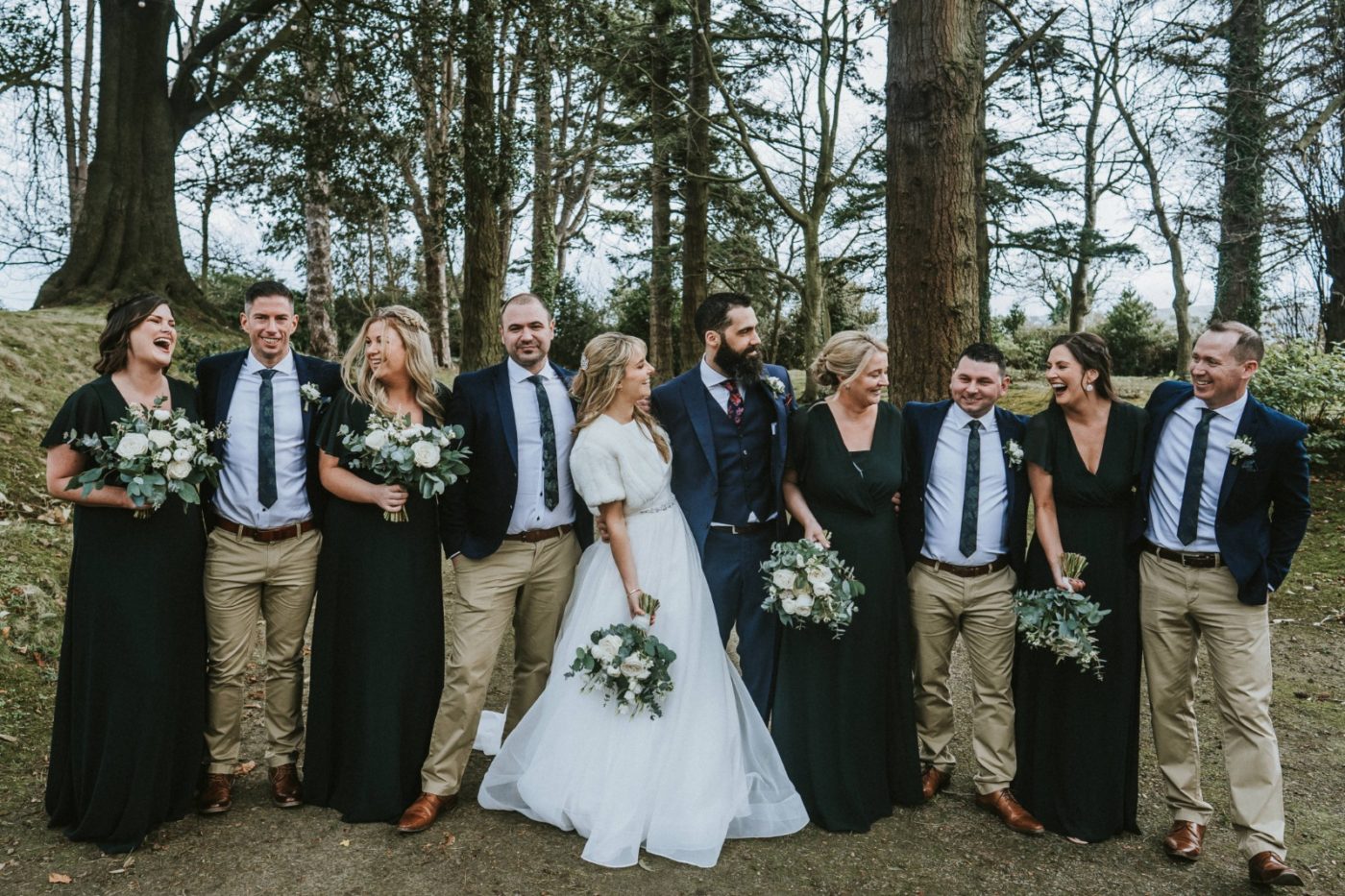 The Dream Team Details:
Location: Tinakilly Country House – https://tinakilly.ie/ 
Photographer: Derek O'Rourke from Memento Photography – www.mementophotography.ie
Make-up: Mary Ellen Darby Makeup – www.notanotherintl.com 
Make-up No 2: Orna Kiernan – www.odharnait.com
Hair: Total Hair Care based in Rathfarnham – www.totalhaircare.ie
The Dream Team Instagram Details:
Location: https://www.instagram.com/tinakilly_country_house_hotel/?hl=en
Photographer: https://www.instagram.com/mementophotog/?hl=en
Make-up: https://www.instagram.com/maryellendarbymakeup/?hl=en
Make-up No 2: https://www.instagram.com/odharnait_com/?hl=en