A Brooklodge Wedding – Sarah & Nick
In December's blog issue, I wanted to highlight another beautiful wedding I loved being a part of; that of Sarah & Mick which took place on the 20th of October 2021.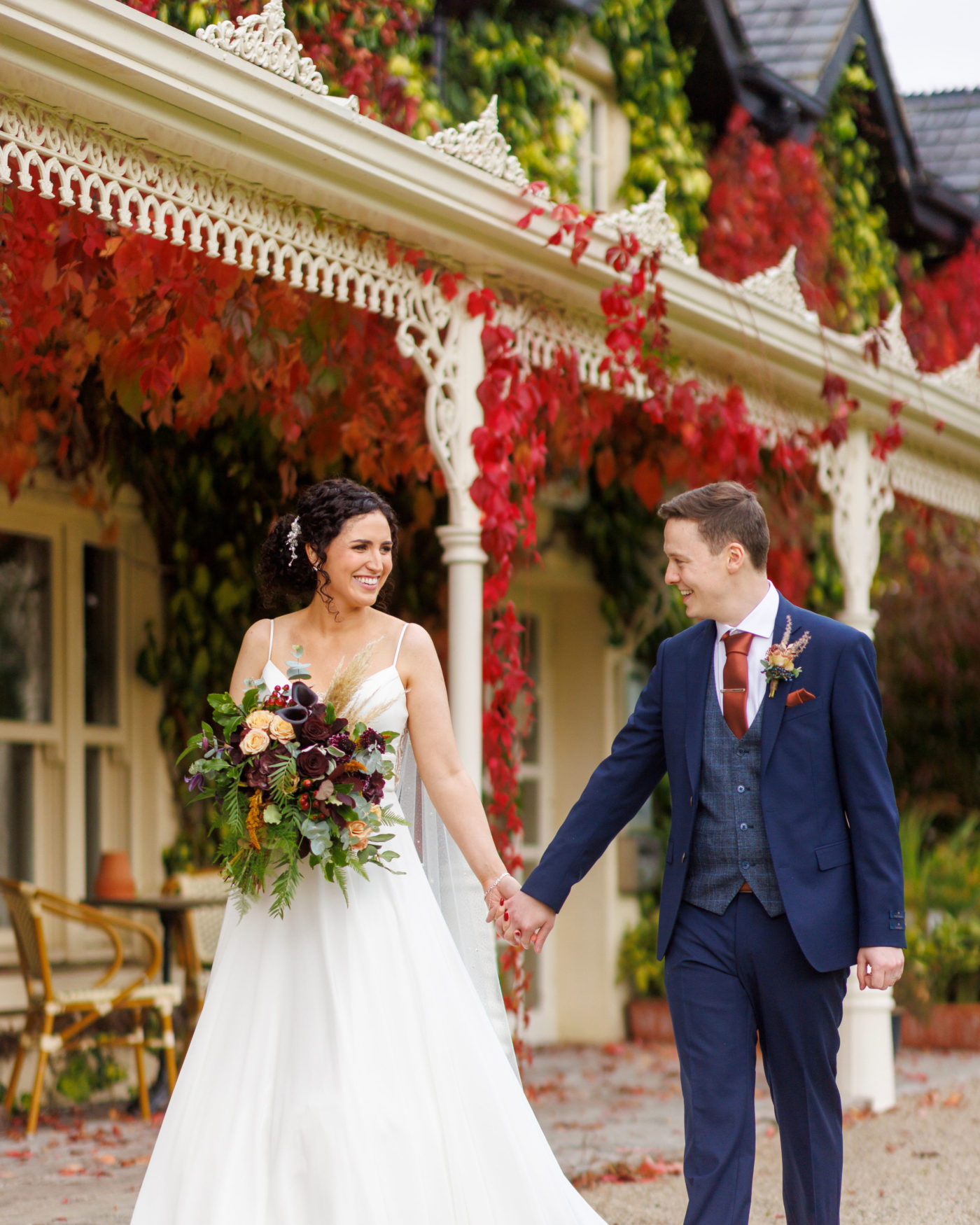 A lovely wedding which took place on the incredible grounds of Brooklodge & Macreddin Village in County Wicklow. A unique 4-star hotel that offers guests an all-in-one opportunity to experience an Ireland that blends the best of old and new.

One of the key selling points of Brooklodge is the bridge walkway across to the Macreddin Chapel, located beside the Ballycrean Brook. The chapel welcomes people of all faiths and none to make their vows in beautifully simple surroundings. For a lot of weddings I work that take place here, we add extra foliage along the bridge and around the entrance of the doorway to tie your overall wedding theme together. 

We provided the bridesmaid with a smaller but similar bouquet to the bride's and then adorned the chapel's pews with even smaller versions. 

It's all in the details…..A close up look of the bride's bouquet.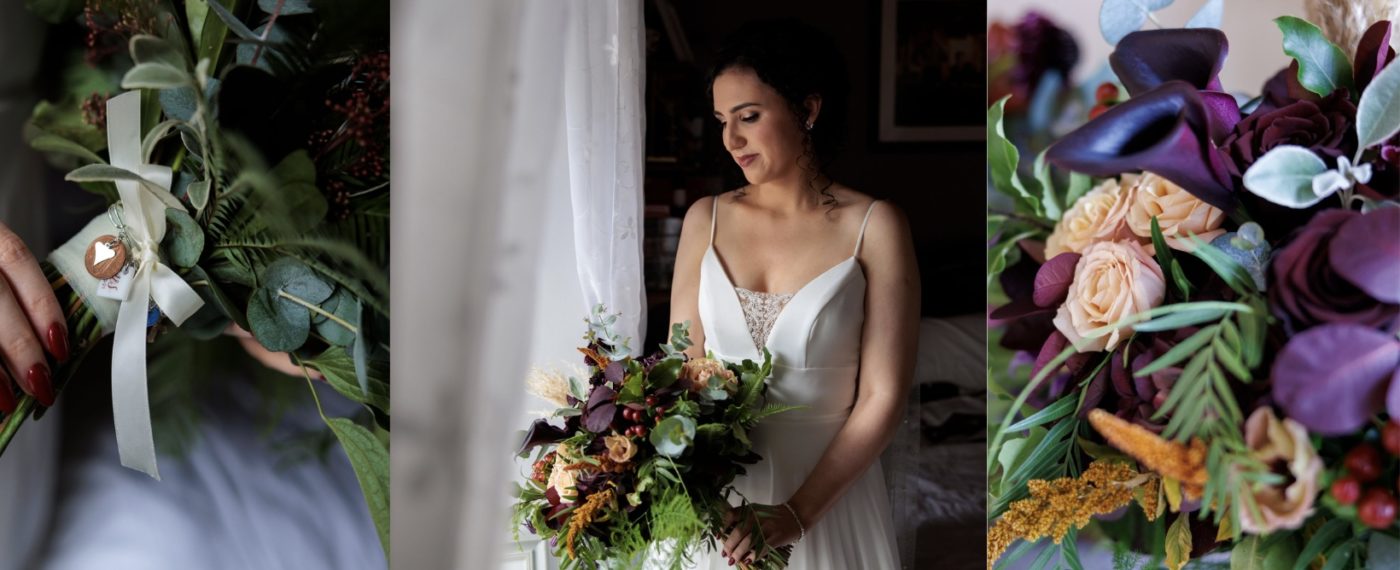 The purple & orange hues were brought into other aspects of the wedding which I really loved. The cake by the fabulous Barbara Riggi cakes who is responsible for some of the most gorgeous luxury wedding cakes in Ireland. It just worked perfectly for this wedding.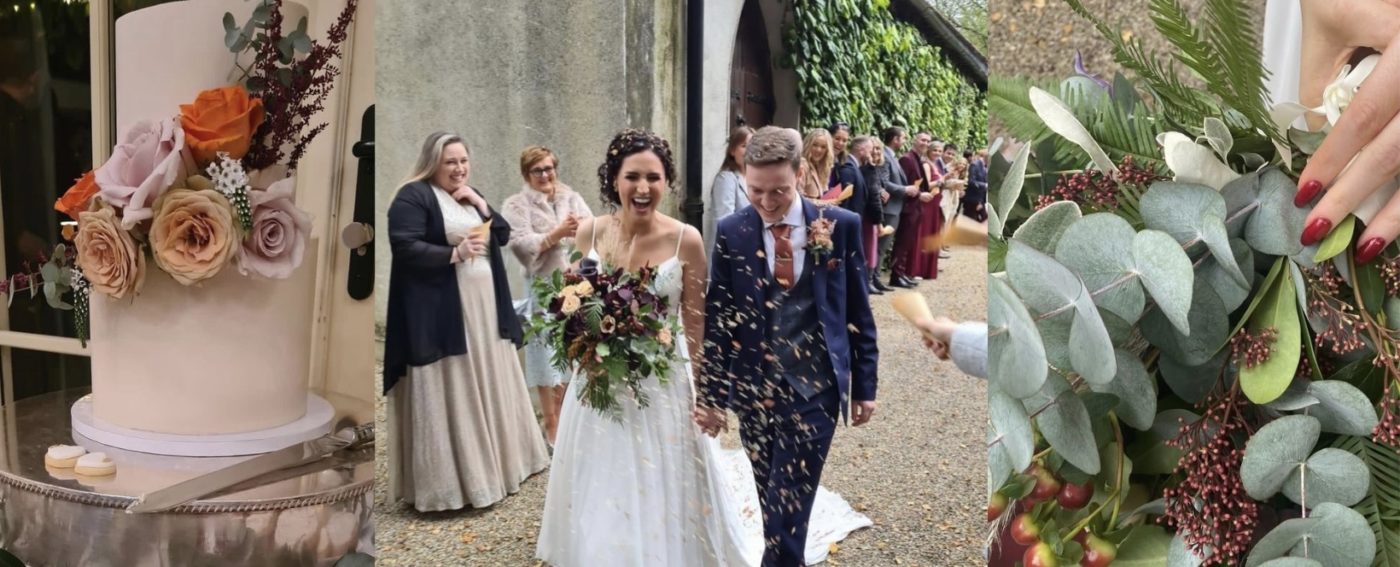 We then decorated the entranceway to Brook Hall where the wedding reception takes place with an Autumn themed display complete with pumpkins, candles & lanterns….such a warm, cosy vibe; perfect for a crisp October's day.

Some additional details from the wedding day; the chapel table, the bridal party and then the boutonnieres for the men. 

These beautiful wedding photographs were captured by the amazingly talented Alan Golden of Golden Moments Photography.  As always such a dream team of service providers working on this wedding from start to finish. And of course such a lovely couple; it was a pleasure to be part of your day Sarah & Mick.

The Dream Team Details:
Location: Brooklodge & Macreddin Village – https://www.brooklodge.com/weddings/macreddin-chapel/
Photographer: Golden Moments Photographer – https://www.goldenmomentsphotography.ie/
Make-up: Ellie Murphy Makeup – https://www.facebook.com/profile.php?id=100032452761931
Cake: Barbara Riggi Cakes – https://barbarariggicakes.com/
The Dream Team Instagram Details:
Location: https://www.instagram.com/macreddin/
Photographer: https://www.instagram.com/realgoldenmoments/
Make-up: https://www.instagram.com/emurphymakeup/?hl=en
Cake: https://www.instagram.com/barbarariggicakes/