A Rathsallagh Wedding –
Vanessa & John
In this month's blog issue, I wanted to highlight the absolutely stunning wedding of Vanessa & John which took place on the 1st of October back in 2020 which I had the pleasure of being part of & supplying the floral details.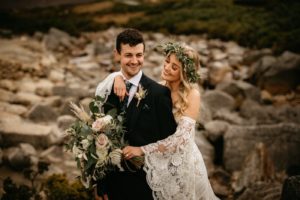 This was such a beautiful wedding to work on; especially as we were just emerging from Covid lockdowns and were still facing certain restrictions within the wedding industry, so this was a breath of fresh air. 

The morning of the wedding, the bride Vanessa, her mother and bridesmaids getting ready. The bride wore a foliage/flower crown whilst the bridesmaids also had little touches of flowers incorporated into their hair which was worked on by the fab women at Halfords Hair Salon which is based in Gorey.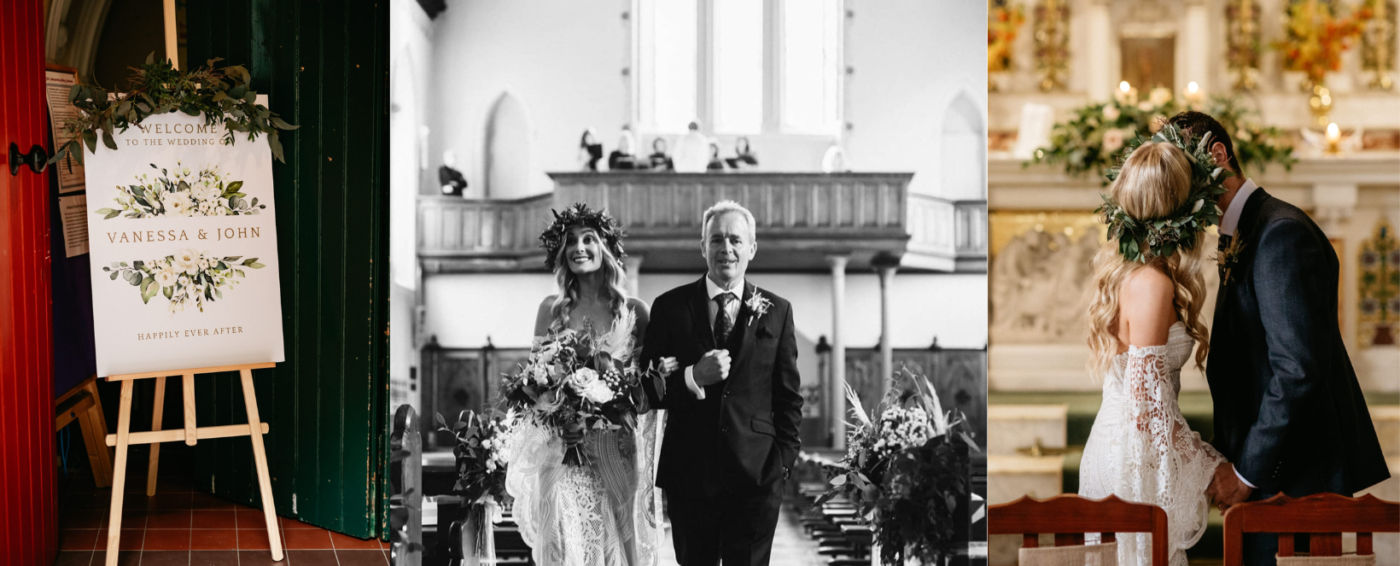 To start off this was a Wicklow wedding with the ceremony taking place in the serene surroundings of Avoca Church. As you can see, Vanessa & John had incorporated floral illustrations throughout their wedding theme so we added some extra foliage to the signage to give it a 3-dimensional effect. 

It's all in the details; the bride's bouquet and the Groom's Buttonhole

The bridal party and the groomsmen outside the Avoca Mill; the oldest working mill in Ireland.  

In the beautiful surroundings of Rathsallagh House, Co.Wicklow. The 18th-century, ivy-clad country house hotel is considered one of Ireland's most romantic, exclusive and private wedding locations.

Some up-close shots of Vanessa's ethereal bouquet which complimented her crown perfectly.

All these stunning photographs were captured by the extremely talented Lima Conlon Photography & the results are absolutely breath taking. Such a dream team of service providers working on this wedding from the hair and make-up to the photography & videographer. And of course such a lovely couple; it was a pleasure to be part of your day Vanessa & John. 
The Dream Team Details:
Photographer: Lima Conlon – https://limaconlon.com/
Videographer: Your Short Film – https://yourshortfilm.com/
Hair: Halfords Hair Salon – https://halfordshairstudio.ie/
Make-up: Making Faces by Stacey – https://www.makingfacesmakeup.ie/
The Dream Team Instagram:
Photographer: Lima Conlon – https://www.instagram.com/limaconlon/?hl=en
Videographer: Your Short Film – https://www.instagram.com/yourshortfilm/?hl=en
Hair: Halfords Hair Salon – https://www.instagram.com/halfordshairstudio/?hl=en
Make-up: Making Faces by Stacey – https://www.instagram.com/makingfacesgorey/?hl=en